Shannon MacLeod has always gone for the wrong type of man. After she drifted from one toxic relationship to the next, her last boyfriend gave her a wakeup call in the worst possible way. With her world shattered, she's sworn off men—especially those of the bad-boy variety.

Cole Walker is exactly the sort that Shannon wants to avoid—gorgeous, tattooed, charming, and cocky. But his rough exterior hides a good man who's ready to find "the one." He's determined to pull Shannon from her self-imposed solitude and win her heart.

As Shannon opens up in the face of Cole's steady devotion, the passion between them ignites to blazing levels. But when Shannon's past comes back to haunt her, her fears may destroy the trust Cole has built between them—and tear them apart for good…
The story opens with Cole and Shannon meeting on Scotland Street as teenagers and even though it's just for a few moments the connection between them is instant. The plot takes place nine years later when Cole and Shannon are all grown up and Shannon is looking to start a new life away from her family and past by moving to Edinburgh. The minute Cole and Shannon lay eyes on each other the attraction they once felt as teenagers comes back to life but things have changed in Shannon's life and Cole isn't the type of man she's looking for anymore.
Cole has been easy to love from the first time I met him in Down London Road and I was so excited to finally get to his story. I didn't know it was possible to fall more in love with a character but I certainly did while reading this book and Cole might just be my favorite male character in the series. Shannon on the other hand was a little hard to love at first, but my heart went out to her so many times and as her story progressed she was someone who I eventually warmed up to and loved just as much as Cole by the end. I loved his patience with Shannon, and how he was determined to show her just how special and amazing she was no matter what anyone else said. The chemistry between them sizzled from the very beginning and it increased with every page, I couldn't wait for them to finally give in to it all and start ripping of their clothes. The bond Cole and Shannon shared was so amazing and I loved watching their relationship grow.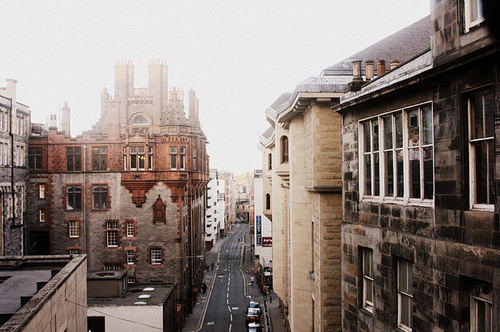 I really have no huge complaints, the foundation for the plot and the character development was right on point. I do wish that there was more of a change in the plot because it was very much the same as all the rest of the book in this series. It made the story a little bit more predictable than I would've liked but I was no less enthralled with the plot.
Overall, this was another great story to add to an amazing series. I thought the plot was well thought out and developed, and there were no slow points or plot holes. Like I said before I have loved Cole for so happy for him to finally get his own happily ever after. I loved his tough hot guy exterior while at the same time was such a loving and giving person that was proven repeatedly in this book. Shannon walked into Cole's tattoo shop damaged from her past, and Cole became the man to show her there were still some good guys left in the world. I loved the sexual tension between them as they tried to deny the attraction they had towards each other because is sucked you into the story even more, and I couldn't wait for it all to explode!
It was so amazing to watch their relationship grow and to see the love they both had for one another grow. Cole was such an amazing boyfriend and I don't think there wasn't a time that Shannon didn't appreciate everything he did for her. Of course, there were some dark parts to this story as they both uncover certain truths about each other but I loved watching them come out the other end of that.
No story in this series would be complete without the rest of the gang showing up and they around a lot of times throughout the story and I loved it. It's so great to see all their stories continue as the series grows and how their families have grown too. I absolutely love this series and Cole and Shannon's story just added to why I love it so much. I was sucked right in to Shannon and Cole's story from the beginning and I wasn't ready to say goodbye to them when it all ended. Each book is filled with so much love and sense of family and support it warms my heart every single time I pick up a new book in the series and Echoes of Scotland Street was no different.